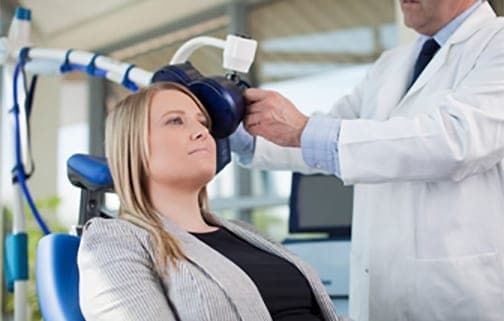 By Mark Xuereb, MD, Michela Mifsud, and Simone Buhagiar
Transcranial Magnetic Stimulation (TMS) Case Study Background:
12% of the population suffer from migraine- a debilitating condition which has significant impact on one's life.
There are different remedies and medicines to relieve symptoms. They include lifestyle changes, triptan drugs, ergotamine drugs, and analgesics.
Treatment resistant migraine (TRM) occurs in 45% – 77% of patients taking triptans.1 Potential adverse effects, contraindications, pharmacokinetics, and route of administration are often primary determinants of medication choice. Patients with severe nausea and vomiting often require non-oral medication.
Objective: To determine the efficacy TMS on 61 acute, treatment resistant/intolerant migraine (TRM) patients.
Method:
61 patients with a diagnosis of acute TRM were referred through colleagues or self-referred through social media.
They completed a self-reporting questionnaire (The Migraine Disability Assessment Test-MIDAS) pre-treatment and post-treatment.
Patients were given a single session of rTMS lasting 10 minutes, consisting of the application of the TMS coil over the inion of the skull using the right DLPFC protocol.
Results:
68% of patients reached remission. MIDAS scores dropped from 20 or more to less than 10 (Grade IV down to Grade II or I) indicating severe disability dropping to mild or no disability after one session
21% reported a decrease in symptoms i.e. they responded (Grade IV to Grade III or II), indicating severe disability dropping to moderate or mild disability.
3% did not report any improvement.
The treatment was well tolerated and no side effects were reported.
Nobody dropped out and the majority (84%) said they would return if they had another acute bout episode of migraine.
Conclusions:
Treatment with rTMS is a rapid, safe, non-invasive, localized treatment with a growing evidence base that is an alternative for migraine sufferers who are not tolerating or not responding to other treatments, or who wish to utilize a 'natural' option.
Although acute TMS treatment of migraine is FDA approved (after depression and before OCD)3, more research is required in this field to determine protocols which keep migraine sufferers in remission.
References:
Gilmore, B., Michael, M. (2011) Treatment of Acute Migraine Headache. American Academy of Family Physicians, 1;83(3):271-280.
Lan, L., Zhang, X., Li, X., Rong, X., & Peng, Y. (2017). The efficacy of transcranial magnetic stimulation on migraine: a meta-analysis of randomized controlled trails. The Journal of Headache and Pain, 18(1), 86. doi:10.1186/s10194-017-0792-4
https://oasistms.com/wp-content/uploads/2020/06/tms_article_image_1.jpg
333
504
Bailey Carter
https://oasistms.com/wp-content/uploads/2021/11/Oasis-tms-logo.svg
Bailey Carter
2020-06-02 16:06:19
2023-04-11 11:26:46
Transcranial Magnetic Stimulation (TMS) Use to Treat Migraine - A Local Case Series Study