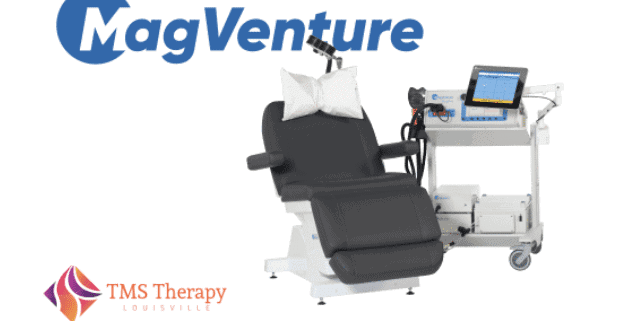 TMS Therapy Louisville proudly brings the best in Transcranial Magnetic Stimulation (TMS) therapy to our valued patients every day. We value the trust our patients place in us to safely administer this mental health therapy when other treatment options have proven unsuccessful. Transcranial Magnetic Stimulation therapy painlessly revitalizes areas of the brain responsible for mood control, while it improves communication within the central nervous system. It has proven effective for many people living with a variety of major depressive and anxiety disorders that have been resistant to prescription medications and other traditional therapies. 
TMS therapy makes a significant impact on the mental health of thousands of people every day, and we are privileged to share this amazing technology with others who need it. TMS Therapy Louisville chooses only the best state-of-the-art equipment in delivering this alternative treatment option. We feature the MagVenture TMS Therapy® device in our offices. MagVenture has a long-standing legacy within the neuroscience community, providing TMS solutions to researchers since 1992. This FDA-approved device directs magnetic energy pulses to the brain's prefrontal cortex. The magnetic fields stimulate underactive nerve cells in the brain. 
Other TMS therapy equipment and device manufacturers include NeuroStar Advanced Therapy®, Apollo TMS®, and MagStim®.
TMS therapy is a true lifeline for many individuals who may have given up hope of ever finding relief from major depression, anxiety, PTSD, obsessive compulsive disorder (OCD), and other mental health disorders.
Using the MagVenture system, TMS Louisville offers an industry-standard, 37-minute TMS protocol and a newer, three-minute protocol called Theta Burst. In 2018, MagVenture received FDA clearance for the three-minute protocol, with the trademarked name Express TMS®. MagVenture is also FDA cleared for the standard 37-minute protocol and a 19-minute protocol. 
The device and its set-up itself are designed with patient comfort in mind. This includes a padded, comfortable chair with armrests and a headrest for use during treatment sessions. 
Like all TMS therapy treatments, MagVenture TMS Therapy® provides non-systemic delivery, meaning nothing enters the bloodstream at any time. Additional treatment benefits include: 
No sedation – patient remains awake and alert during treatment

Non-invasive – nothing is inserted or implanted into the body

No drugs – unlike with some medications, there are no side effects like weight gain, drowsiness, sleeplessness, stomach upset or sexual problems you may experience with medication. 
No post-treatment recovery time is required and patients may return to daily routines immediately following a session. The amount of time required for a treatment is based on the frequency, intensity, and range of stimulation needed for a patient's diagnosed condition.
At TMS Therapy Louisville, we offer a safe, welcoming environment for providing non-medicated, results-orientated relief from anxiety, depression, PTSD, and other mood disorders. If you and your doctor have tried countless treatment options for your mental health diagnosis and not experienced adequate relief, TMS therapy could be the answer for you.
https://oasistms.com/wp-content/uploads/2020/11/Screen-Shot-2020-11-25-at-9.16.08-AM.png
420
618
Bailey Carter
https://oasistms.com/wp-content/uploads/2021/11/Oasis-tms-logo.svg
Bailey Carter
2020-11-25 14:21:34
2022-02-08 15:58:40
MagVenture TMS Therapy®