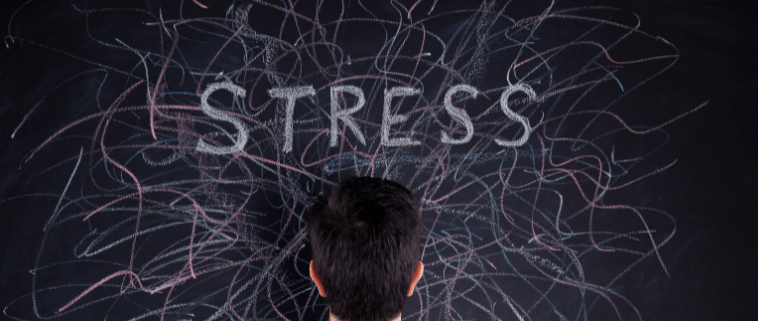 Feeling stressed? It's not all in your head.
It's a word we all hear so much these days – STRESS. It's a relative term and means so many different things for everyone. What one person may consider "stressful" may not register the same with another individual. That's why it's important to know the common signs of stress.
The concept of stress itself relies on perception, and that big social event that makes one person want to hide, may be other's joy. While none of us is a stranger to stress, many would agree the word has come to encompass so much since the COVID-19 pandemic began in spring of 2020.  Whatever difficulties we faced on an everyday basis multiplied ten-fold nearly overnight.
Feeling stress is a normal part of being human and manifests itself both physically and emotionally. It can serve as one of the body's ways of reacting to potentially dangerous situations, where a "fight or flight" response is triggered. Experiencing a normal stress reaction to things such as a challenging work assignment or other event can serve as healthy motivation to work hard and achieve success, for example. 
Of course, stress-filled events, interactions, and circumstances inevitably build upon one another in cascade, sometimes creating what may seem like insurmountable challenges or obstacles. The side effects of stress can be daunting, and it's not all in your head, as some may say. Stress impacts everything in a person's whole being – inside and out, head to toe. 
When someone experiences chronic stress without adequate relief, this is when it can become a problem. An ongoing stress response is unhealthy and can create a range of physical and emotional challenges, or lead to new or worsening medical conditions. 
The impact of intense stress can be consuming physically, mentally, emotionally, and spiritually. It can quite a bit of wear-and-tear on the body AND mind. Learning stress management techniques can help people recognize, cope, and halt a constant stress cycle. While experiencing stress at one time or another is nearly unavoidable, you can learn ways to cope and control how you respond to things that cause stress for you. Your health depends on it! 
Signs Of Stress
Learning to recognize the common signs of chronic stress and its damaging effects is important. According to Cleveland Clinic, the following are some common symptoms and effects of long-term physical, mental, and emotional stress:
Physical symptoms
Aches and pains

Chest pain/racing heart

Exhaustion or trouble sleeping

Headaches

, dizziness, or shaking

Muscle tension or jaw clenching

Stomach or digestive problems

Sexual difficulties

Weakened immune system
Emotional and mental symptoms
Anxiety or irritability

Sadness
When chronic stress becomes a serious problem that affects your daily life, it may be time to seek help and develop stress management techniques that work for you. It is always best to learn how to manage stressors before it impacts your life in an extreme way.        
For many people, the impact and aftermath of stressful events may seem like too much to overcome. If you find yourself feeling that way, know that help is available. If chronic stress has led to serious depression and anxiety, you have many treatment options. Consult with your healthcare provider to determine a course of therapy and treatment that is right for you.
If medications and talk therapy do not provide adequate from your emotional and mental symptoms, Transcranial Magnetic Stimulation (TMS) therapy may help. This non-invasive, innovative treatment is FDA-approved for depression, anxiety, and PTSD. When you're ready to explore a better option for the depression and anxiety you may be experiencing, TMS Therapy Global Network  is here to help.
Start by taking the first step toward feeling better. Consult your doctor and practice stress management techniques. When you need help beyond medication and counseling, call us at 502-742-8182 – TMS Therapy Global Network is here to help get you started in the right direction toward recovery. 
https://oasistms.com/wp-content/uploads/2021/05/Screen-Shot-2021-05-27-at-7.33.46-AM.png
490
758
Bailey Carter
https://oasistms.com/wp-content/uploads/2021/11/Oasis-tms-logo.svg
Bailey Carter
2021-05-27 11:41:17
2022-06-06 09:54:03
Common Signs Of Stress